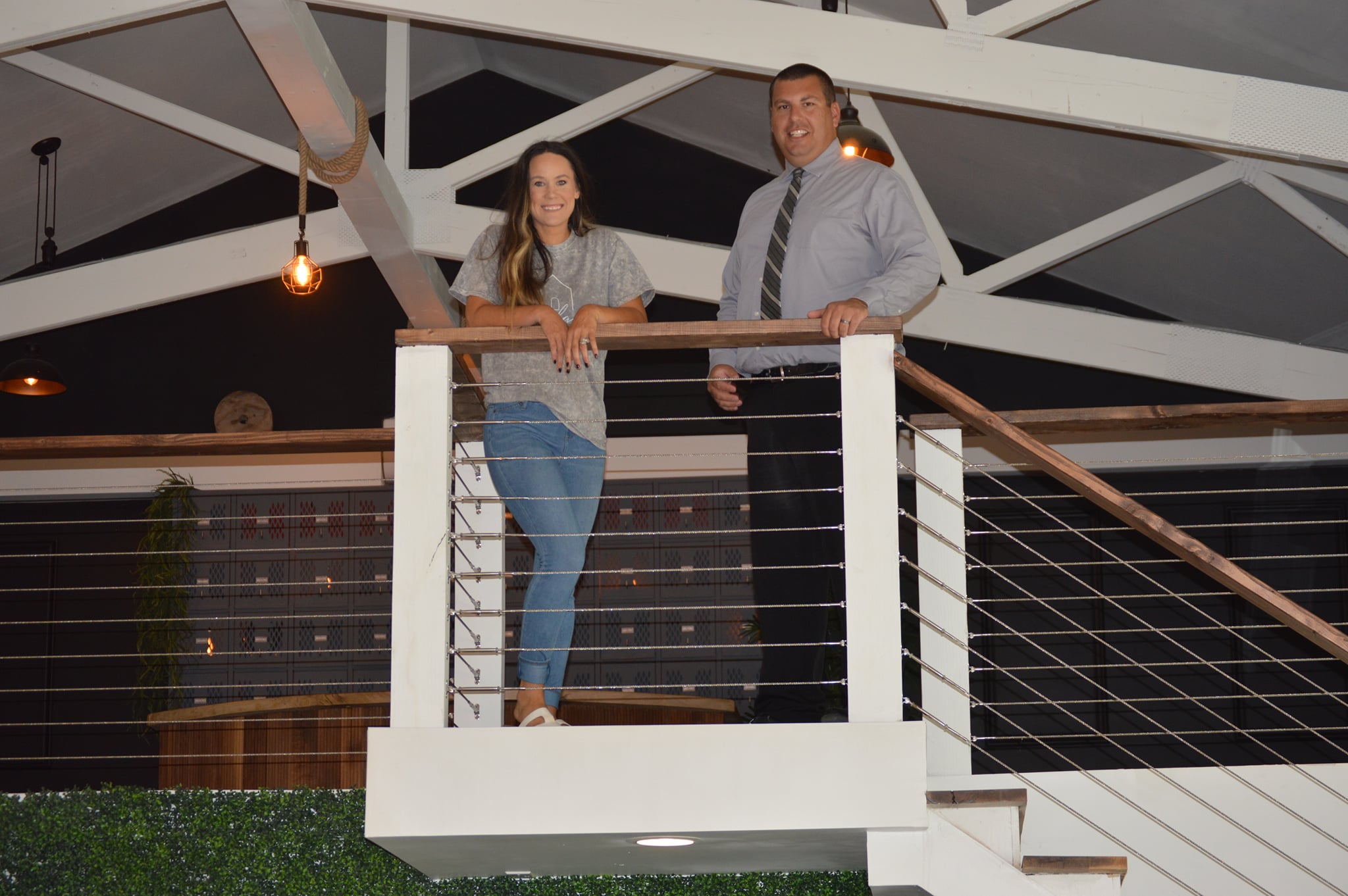 Loveland Estates Open in Pocahontas
Heather Hayden has always been a "big dream" kind of person.
She turned a creative hobby into a successful small wedding planning and decorating business.  But she had bigger dreams.
A business relationship with Bradford National Bank helped make those big dreams a reality with the creation of Loveland Estates, a full-service reception facility for weddings, showers, or any other party, located in Pocahontas, Illinois.
"I started this crazy dream of mine almost 10 years ago," Hayden said.  "I've always had a love for art, and wedding design and receptions became my way of expressing my creative side."
Loveland Estates is a beautiful family-run facility on 10 acres with a beautiful waterfront view.  The facility includes a covered outdoor wedding space and an indoor reception area that will seat 230 guests.  There is also special space for the bride and groom to prepare prior to their big moment.
What makes Loveland Estates unique is that the wedding party can do as much or as little as they want to prepare the space.  Hayden said, "I love working with the bride and groom on their vision for their wedding or reception.  If the wedding party wants to decorate, we can allow for that.  However, my team and I can do all the decorating and flower arrangements, usually at a fraction of the cost."  Loveland Estates offer a wide variety of fresh florals, linens, places settings, centerpieces, décor and much more.  She added, "I'm very passionate about weddings and decorations."
By utilizing all the Loveland Estate turn-key services, Hayden said the bride and groom can show up without the stress of decorating or cleaning up.  "Leave it up to us.  We will gladly decorate the venue for your big day and my goal is to bring your vision to life."  She added, "When the wedding party arrives for their ceremony or reception, everyone gets to enjoy the 'big reveal' together.
Loveland Estates can even arrange for the meals.  "We meet with the bride and groom before hand and discuss what they want with decorations, flowers, and meal.  We can even have a tasting to help them decide on the food they would like to serve.
The venue provides plenty of parking.  However, Loveland Estates has added an elegant motor coach bus to their mix of services to make sure the wedding party gets to the wedding/reception and home afterwards safely.
Steven Bartlett, who serves as a lending officer at Bradford National Bank in Marine, said, "One of my favorite things about my job is helping people like Heather realize their dreams.  She had a plan, vision, and the drive to make this project a reality."
"Working with Steven has been a great experience.  We would have not been able to do this project without Bradford National Bank," Hayden said.  "Steven understood our vision and worked with us every step of the way to get Loveland Estates built."
So far, Loveland Estates has been met with great favor.  Hayden said, "Most Saturday's are full.  In fact, we are doing bookings on Friday's and Sunday's now to meet the demand and our calendar for 2021 and 2022 is starting to fill."
Hayden concluded, "This isn't just a job for me, I truly love seeing our guest's visions come together.  It is my goal is to make your dream wedding come to life. As cliché as it sounds, I just LOVE love!"
For more information on Loveland Estates, contact Hayden at 618-741-5633 or follow Loveland Estates on Instagram and on Facebook @lovelandestates20.
Founded in 1867, Bradford National Bank is the 10th oldest bank in Illinois.  Visit www.BradfordBank.com.