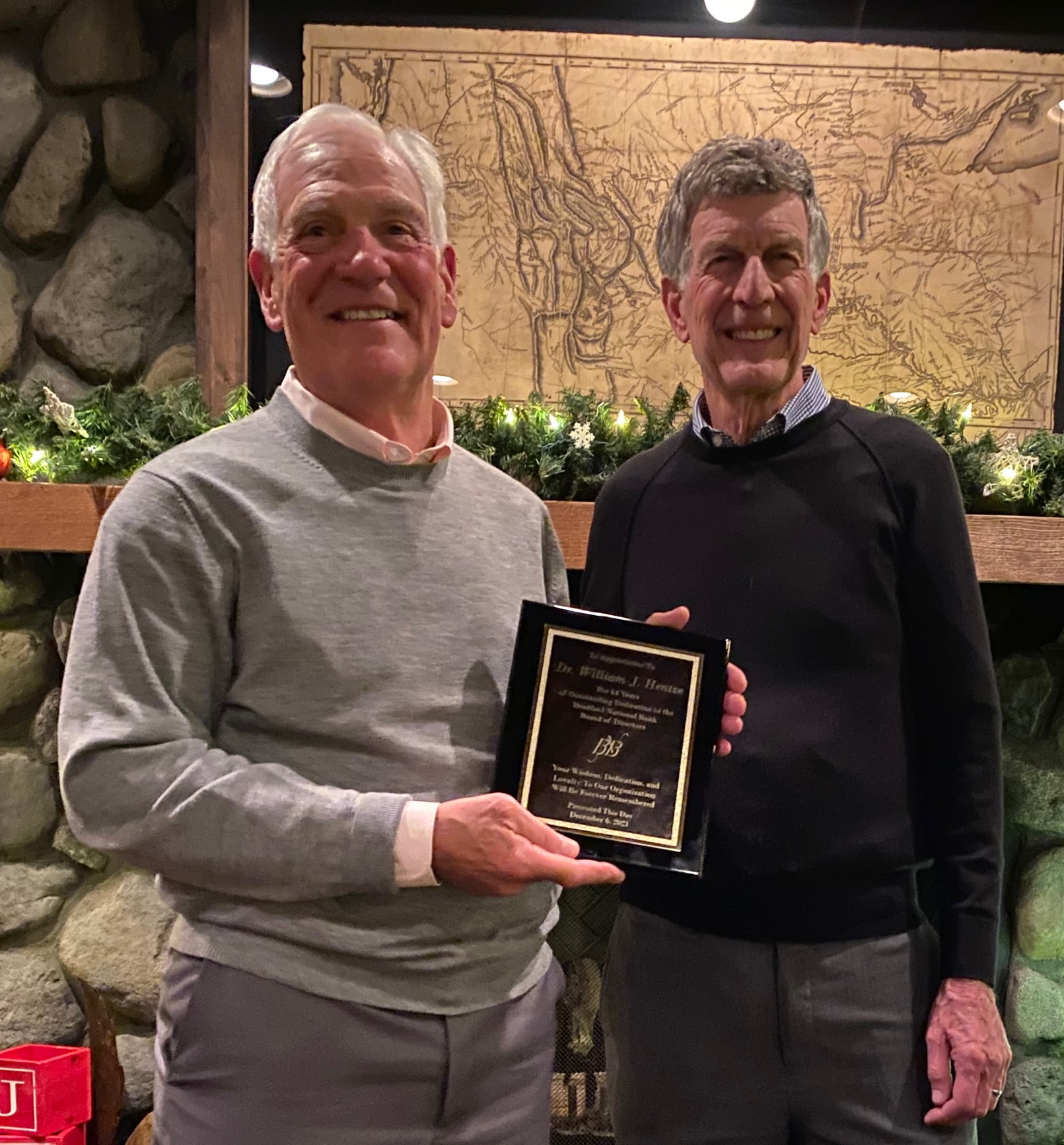 DR. WILLIAM HENTZE RETIRES FROM BRADFORD NATIONAL BANK BOARD
After 44 years of service, Dr. William "Bill" Hentze has retired from the Bradford National Bank Board of Directors.  The announcement was made by Board chairman, Frank Joy.
Henzte joined the board in 1978 and has witnessed the evolution of banking firsthand.  "When I first came on the board, the bank had one very large computer and banking transactions were still processed by hand.  Today, every single banking transaction has a digital component to it.  Keeping up with the technology transformation has been both challenging and rewarding," Hentze said.
The board recognized Hentze with a special dinner where he was presented a plaque that read, "In appreciation to Dr. William J. Hentze for 44 years of outstanding dedication to the Bradford National Bank Board of Directors.  Your wisdom, dedication, and loyalty to our organization will be forever remembered.  Presented this day, December 6, 2021."
"When Bill joined the board in 1978, the banks total assets were $36 million.  During his years on the board, we expanded by opening our branch on Idler Lane as well as locations in Highland and Marine." Joy said.   "Today, we are approaching the $500 million mark in total assets."
Michael Ennen, Bradford National Bank president, said, "I've really enjoyed working with Bill over the years and I'm going to miss his wise council."  He concluded, "All of us here at Bradford National Bank wish him a happy, healthy retirement.
Hentze added, "Watching the bank grow and becoming one of the best community banks in Illinois while serving the residents and expanding our market has been a rewarding experience.  I'm going to miss the interactions with the board but am confident the remaining members will continue to guide the bank upward and they will continue to provide exceptional products and services to our community in a safe, secure environment.
Founded in 1867, Bradford National Bank is the 10th oldest bank in Illinois.  For additional information, visit www.BradfordBank.com.
Photo:  Bradford National Bank Board Chairman Frank Joy, right, presents a plaque of appreciation to Dr. William "Bill" Hentze for his years of service to the board of directors