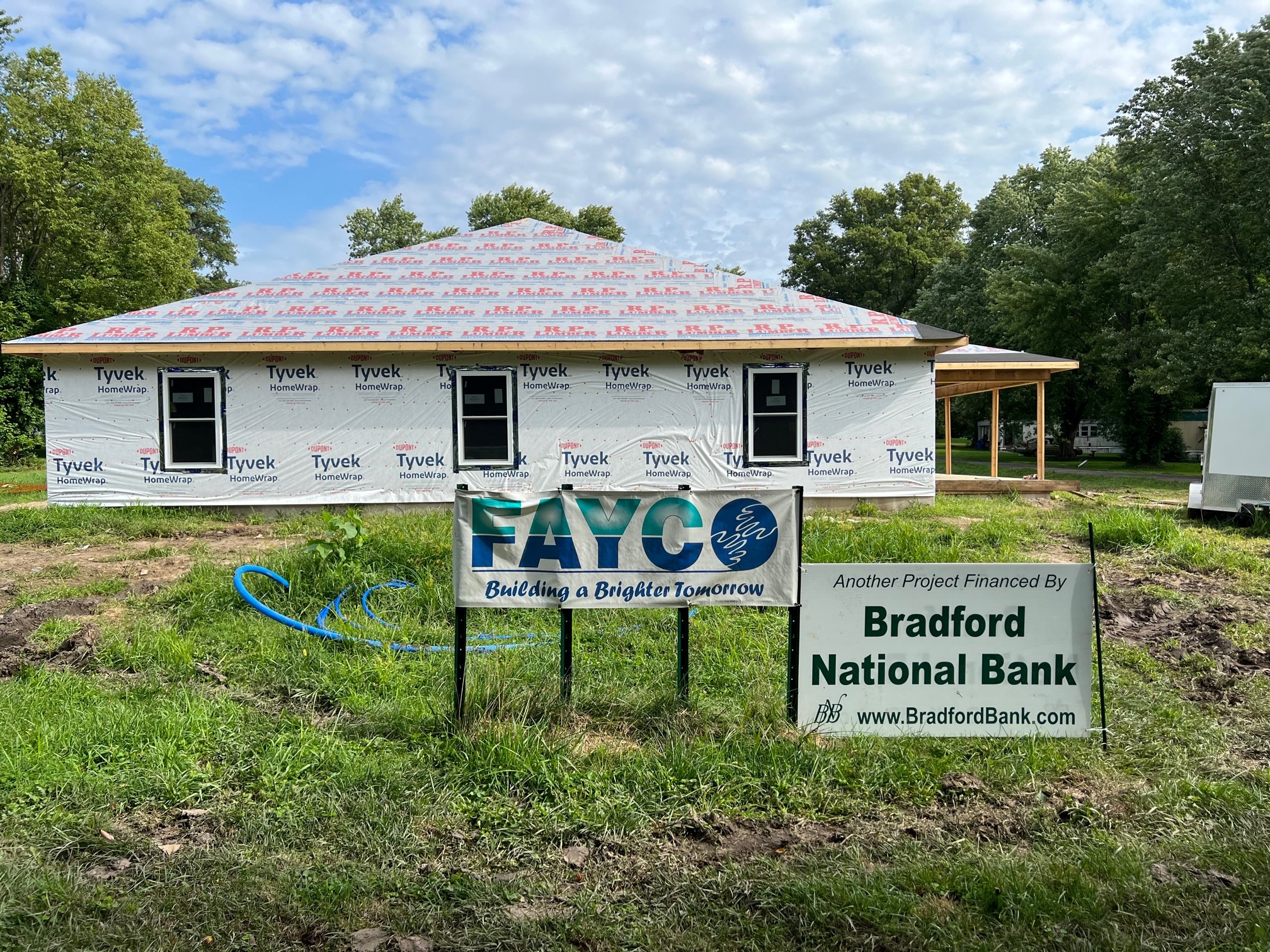 Bradford National Bank, FHLBC Collaborate To Provide Funding To FAYCO Enterprises
Bradford National Bank and the Federal Home Loan Bank of Chicago (FHLBC) have collaborated to provide funding to FAYCO Enterprises to build a new housing duplex in Greenville.  FAYCO Enterprises was awarded the FHLBC Community Small Business Advance, which is designed to provide a lower-interest-rate with long-term financing to help recipients expand their capacity for affordable housing and economic development.
FAYCO Enterprises, a Community Integrated Living Arrangement (CILA) provider, is building a six-bedroom home along Prairie Street in Greenville.
"FAYCO serves an incredible purpose in society and is a huge asset to our region. This is going to be a place to call home for many individuals for years and years to come. We were honored to be able to assist FAYCO with this project, and grateful for the partnership with FHLBank Chicago," said Chris Barth, Assistant Vice President, Bradford National Bank. "Having an option like the Community Small Business Advance available in our community means that residential support businesses like FAYCO have a low-cost source of funding available locally."
He added, "This program is just another example of the different resources available to consumers and business owners through a local community bank."
FAYCO Enterprises, headquartered in Vandalia, IL, is a 501(c)3 not for profit corporation which provides valuable person-centered services for citizens with disabilities residing in Fayette, Bond, Montgomery, and adjacent counties in Illinois.   This will be FAYCO's third home in Bond County. "Greenville is a very welcoming and accessible community.  We enjoy being a part of the community and are excited about our new construction project," said Kim Taylor, Executive Director of FAYCO.  "We sincerely appreciate Bradford National Bank and the FHLBC partnering with us to make this project a reality."
"Small businesses provide much needed jobs, services, and resources that drive growth in rural, urban, and small-town communities," said Carolyn Jaw, Executive Vice President, Group Head, Sales, Strategy, and Solutions, FHLBank Chicago. "Local businesses in our members' communities have worked hard to rebound from difficult years with strong economic headwinds. This combination of solutions offers unique and timely capital support, not just to sustain their businesses but to grow, especially in times of rising interest rates."
About the Federal Home Loan Bank of Chicago
FHLBank Chicago is a regional bank in the Federal Home Loan Bank System. FHLBanks are government-sponsored enterprises created by Congress to ensure access to low-cost funding for their member financial institutions, with a focus on providing solutions that support the housing and community development needs of members' customers. FHLBank Chicago is a self-capitalizing cooperative, owned by its Illinois and Wisconsin members, including commercial banks, credit unions, insurance companies, savings institutions, and community development financial institutions. To learn more about FHLBank Chicago, please visit fhlbc.com.
About FAYCO Enterprises
FAYCO offers programs such as home-based support services, residential services, work services training, job placement and supported employment, and personal and social adjustment services.  For more information, visit www.fayco.org.
About Braford National Bank
Founded in 1867, Bradford National Bank is the 10th oldest bank in Illinois with locations in six communities.